Learn about our Programs! Get to know us!
Learning, Leadership and Service
We are here for you… with information about high school, with services for students, with dedication to success for all students.
Our Counselors are Ready to Help You!
Lincoln Southeast, throughout its proud history, has always been a well-rounded school that excels in many areas:
Southeast was selected as "Best Overall School" – 2013 Lincoln Public Schools Gold Star School Award.
Academics
322 Advanced Placement (AP) examinations were administered to Southeast students in 2019 and 78 percent received a score of 3, 4, or 5.

82 Academic National Merit Semi-Finalists over the past 19 years.
Athletics
129 State Championships — most of any public school in the state of Nebraska.

13 Omaha World Herald All Sports titles.
Student Council
Student Council raised $30,000 and donated the money to buy a handicap accessible van for the Clyde Malone Community Center. In 2018, the Student Council collected 10,000 pounds of food and donated it to the Lincoln Food Bank.
"We the People"
"We the People" is a competition for students based on their knowledge of the United States Constitution. LSE students have attended the national competition in Washington, D.C. 18 of the last 28 years. As "We the People" state champions for 2016, LSE students competed at the national tournament in Washington, D.C.
National History Day
Junior AP United States History students have the opportunity to compete in the National History Day competition. Students conduct research on a topic of their choice and present their findings. Students advance through district and state competitions earning spots in the national competition in Maryland. Lincoln Southeast has had representatives compete at the national level during the last three years.
Kindness week
Kindness week is dedicated to acts of kindness, service projects and fundraising. Past activities include creating tie blankets for People's City Mission, encouraging locker signs, t-shirts, chain of kindness and daily encouraging announcements.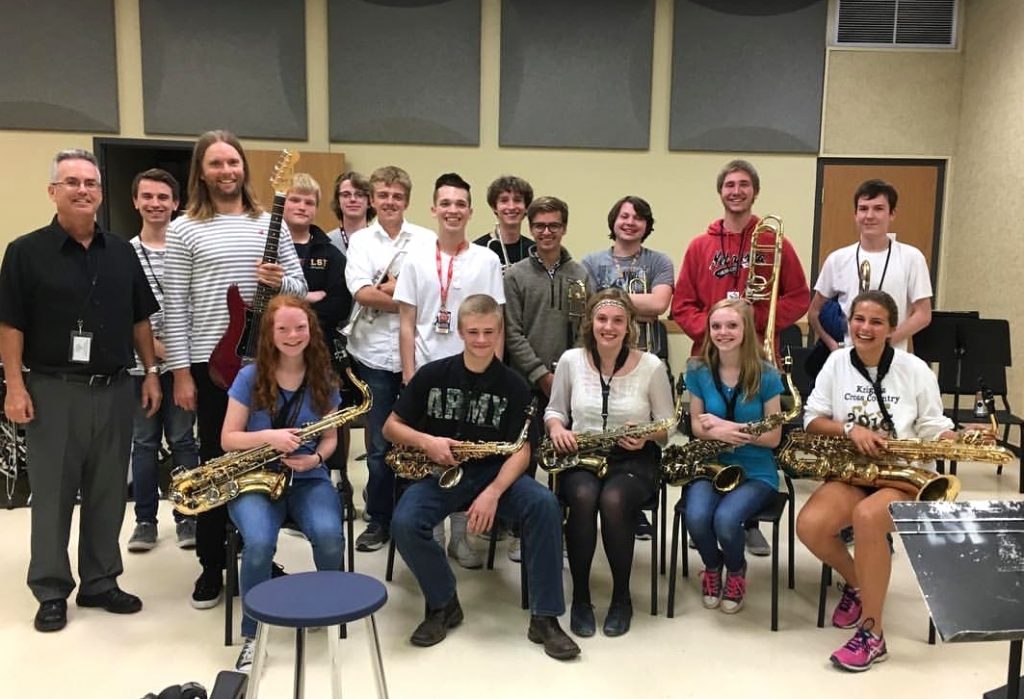 LSE Band Program
Numerous major trips to many outstanding destinations including Pan Pacific Festival in Honolulu, Hawaii. Bowl game performances in San Antonio, San Diego, Phoenix, and Miami/Orlando as well as New York and Chicago. Appearances at College World Series & More appearances at the annual NSBA convention than any school in the state.

Consistent Division I ratings at NSBA State Marching Band Contest and NSAA District Music Contest for decades & Sweepstakes awards at numerious events including Worlds of Fun Festival of Bands.

Award winning colorguard and percussion sections as part of our Marching Band.

Nationally recognized Jazz program with many outstanding career musicians/artists.
LSE Vocal Music Program
Countesses & Noblemen received 1st Place at the 46th Annual Show Choir Festival in 2017.

LSE Varsity Jazz Choir, Ars Nova, and the LSE Percussion Ensemble were selected to perform at the 2018 Nebraska Music Education Conference.

Spring 2020 Southeast Choir will travel to New York City to perform at multiple events.
LSE Orchestra Program
Consistent Division I Ratings at NSASA District Music Contest and Division I Awards at regional contests.

Consistent Student membership in select ensembles such as Lincoln Youth Symphony & NMEA All State Orchestra

Several LSE graduates of the orchestra program have continued on to pursue music at the collegiate level
What is a Day at Southeast Like?
Daily Schedule and Options
Period 1

7:00 a.m. to 7:50 a.m.

Period 2

8:00 a.m. to 8:50 a.m.

Period 3

8:55 a.m. to 9:45 a.m.

Period 4

9:50 a.m. to 10:40 a.m.

Period 5

10:45 a.m. to 11:40 a.m.

Period 6

11:40 a.m. to 1:10 p.m.

Period 7

1:15 p.m. to 2:05 p.m.

Period 8

2:10 p.m. to 3:00 p.m.
Daily Schedule and Options
Periods 1 through 7
Periods 2 through 8
Periods 1 through 8
Typical Freshman Schedule
PASS
English 9 (D)
Civics (D)
Physical Science (D)
Algebra or Geometry
World Language (?)
Fitness for Life
Career & Tech Ed (student choice)
PASS
English 9 (D)
Geography (D)
Geoscience (D)
Algebra or Geometry
World Language (?)
Technology (student choice)
Fine Art (student choice)
Instrumental Music
RJ Metteer, Gary Shuda, Margaret Delaney, Frank Stroup, Brenden Sibley
Vocal Music Choirs
Missy Noonan and Samuel Rickert
Cheer
Rylee Terry, Addyson Dupler, Jess Reiser, Jessica Bui
Shirettes
Emily Mantey Smith
Step Chain
Adi Martinez
Speech
Tommy Bender
Debate
Colten White
Drama
Tyler Lambley, Kathryn Frankforter
Newspaper
Brianne Clark
Yearbook
Kelsey Sejkora
Student Council
Autumn Wardyn and Julie Krueger
A variety of clubs, covering a wide range of topics, is available for students to join. These clubs meet either on Club Day (held on a Tuesday three or four times each semester) or at designated times after school. Clubs are subject to change depending on sponsorship, student interest and approval of club constitution.
Current Clubs available at Lincoln Southeast include:
(Random) Acts of Kindness Club
African American/Biracial/Multiracial Forum
Anime Club
Art Masters Club
Book Club
Business of Art Distribution
Chess Club
Chillax
Comic Book Club
DECA
DFA (Dedicated Fan Association)
Drama Club/Thespian Troup 2106
Empty Bowls Pottery Club
Fellowship of Christian Athletes
Feminist Club
Future Business Leaders of America (FBLA)
German Club
Hacky Sack Club
Harry Potter Club
HOSA (Health Occupation Students of America)
Key Club
KnightVision
Knights Football Club
Knights of Hip Hop
Latino Caucus
Latino Leaders
LsE-Sports
LTAB (Louder Than A Bomb)
Math Club
Nebrasketball
P7
Photography Club
Ping Pong Club
Prom Club
Prostart Culinary Competition
Psychology Club
Quidditch
Rocket Club
Rugby
Science Olympiad
SAGA (Sexuality and Gender Acceptance)
Song Writing Club
Southeast Pals
Star Wars Club
Strategy Card Club
Ultimate Club
Young Democrats
Young Life
Young Republicans