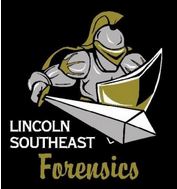 Debate Coach
Introduction
The LSE Debate team is one of the best in state, having had six national qualifying students in the last four years. Debate is an NSAA activity which means you can letter in it, the same as band or athletic events. Many students think debate is arguing in front of hundreds of people in an auditorium, but in reality, the only people usually in the room are your opponent and the judge. It's fun and one of the most rewarding events a student can participate in during high school.
We begin practicing in late September and the competitive season runs from November through March.
Types of Events
There are three kinds of events:
Solo debate: This event is called Lincoln-Douglas and features fast-paced arguments about what philosophical, hypothetical and legal arguments. This is a great event for the driven, individualistic student, especially if they're fascinated by the world of ideas and/or have an interest in becoming a lawyer someday.
Partner debate: This two-person event is called Public Forum and involves a monthly topic which is usually about a hot current issue. This is a great event for two best friends.
Group debate: This event is called Congressional Debate. It is modeled after our Senate/House of Representatives-style of debate. Students from multiple teams are in the same room and argue for or against student-written pieces of legislation, as well as vote on them. It's fun to politically strategize and influence peers from other schools. If you like House of Cards, you'll probably love this event.
Special note: If this is your first year on the team, all events have novice divisions so you would only compete against students who are also beginners, not some mean old senior with multiple years of experience.
Each event has a team captain who is a junior or senior. These captains help new students learn the ropes and organize practice sessions, which brings us to:
Practice Schedule
Monday Team Meeting: This is a brief meeting where students choose the event they will compete in on the following weekend. Following the meeting, the weekly Argument Club will have its get-together. There are often snacks at these meetings.
Tuesday Practice: 5-7 PM
Wednesday: After-school sign-up sessions. When team members want to run a practice round or get specific help, they can make appointments. Students are welcome to hang out and work on their speeches/cases as well.
Thursday Practice: 5-7 PM
Coach Contact Info:
If you have any questions about debate, feel free to e-mail me at cwhite3@lps.org or stop by E215.
—Coach Colten White